Tzaziki is one of my favorite sauces/dips. I used to order it at a restaurant in Greektown in Chicago (along with saganaki, taramasalata, etc.). It's a delicious, thick and creamy dip, with minced or grated cucumbers, yogurt, lemon juice, salt and a hint of garlic. I like to add some fresh dill weed, but it's not necessary.
If you've ever had a gyros sandwich, a version of this sauce is drizzled on top.
Tzaziki is so versatile. You can serve it as a dip with celery, carrots and other raw vegetables, or pita bread/chips. I like to serve it alongside grilled chicken kebabs, fish, or a dish I like to make with ground turkey or lamb that has the flavor of gyros. I will share that recipe in the near future.
You start by peeling and seeding a large cucumber, then chopping it very finely. I add a bit of salt and place the cucumbers on some paper towels to drain.
After about 15 minutes, you can pick up the paper towels with the cucumbers inside and squeeze over the sink to release most of the liquid. This prevents your dip from becoming watery. Place the drained cucumbers into a medium bowl.
Next, add the yogurt and garlic.
Squeeze in your lemon juice, add some salt and fresh dill weed. Mix thoroughly. That's all there is to it! Try some on a crisp stalk of celery.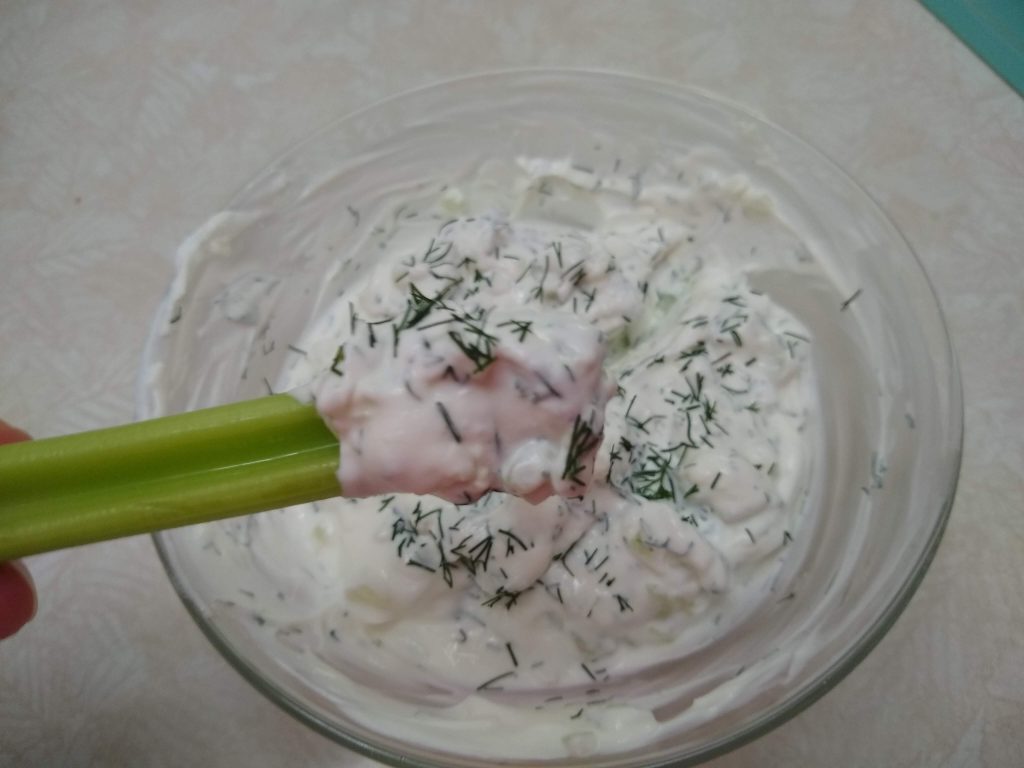 Tzaziki (Cucumber Yogurt Dip)
Servings: 4-6
1/2 large cucumber, peeled, seeded and minced
1 cup Greek yogurt, preferably organic
1 clove garlic, minced
Juice from 1/2 lemon
1 tablespoon fresh dill weed, minced
1/4 teaspoon sea salt
Directions:
Place the minced cucumber on a double layer of paper towels in a medium bowl. Add a sprinkle of salt and leave at room temperature for 15 minutes.
Wrap the paper towels around the cucumbers and squeeze out as much water as possible. Place the cucumbers back in the bowl.
Add yogurt, garlic, lemon juice, salt and dill weed and stir to combine. Taste and add more salt, lemon or dill if desired.
Optional: add a drizzle of extra virgin olive oil.
How useful was this post?
Click on a star to rate it!
Average rating / 5. Vote count:
No votes so far! Be the first to rate this post.