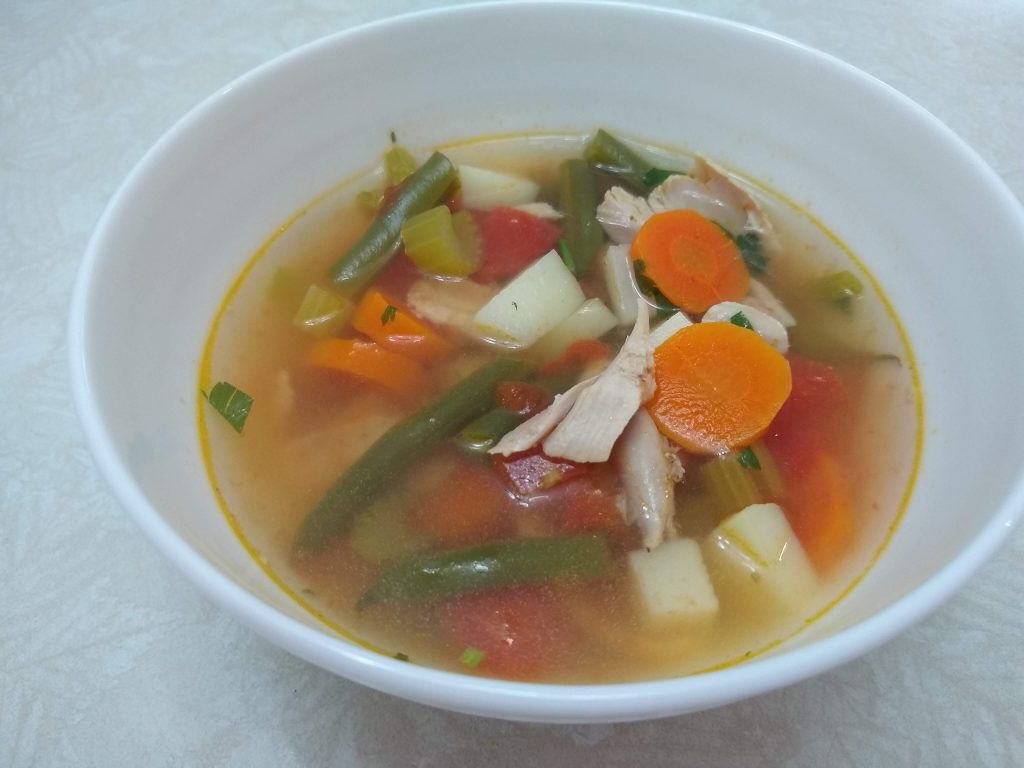 This is a hearty soup recipe from my mother-in-law, filled with lots of fresh, healthy vegetables. Though it has some chicken, the vegetables take center stage. I try to use organic vegetables whenever possible, especially celery, and I was also fortunate to get some tomatoes and parsley from a friend's garden. If you have a farmer's market nearby, this is a great way to use the wonderful, fresh produce before they close for the season.
First, make a flavorful stock using chicken legs, vegetables and spices. Note that you can use a whole chicken, or you can omit the chicken completely to make it vegetarian, but I'm following my mother-in-law's instructions.
First, soak the chicken in cold water for 30 minutes.
While the chicken is soaking, take the onion halves, and place them directly on the grate of your gas burner to get them charred slightly. Only 2-3 minutes is all it takes.
After soaking the chicken, drain the water and add 4 quarts of fresh water and bring to a boil. Skim off all the foam that rises to the top, then add the charred onion, celery, carrots and spices, and let simmer for 45 minutes. Try not to let it boil after adding the vegetables, just a very slight simmer.
Once the chicken is cooked, remove it and cool, then take the chicken off the bones and shred the meat. Strain the stock and discard all remaining ingredients.
Then increase the heat slightly, add celery and green beans, and simmer for 10 minutes. Add the potatoes, tomatoes and carrots. I know that I focus on recipes without starchy ingredients like potatoes, but with the huge amount of soup this recipe makes, there is only a very small amount of potatoes in each serving.
Continue cooking until everything is tender. Finally, add the chicken back to the pot. Garnish with fresh parsley and/or dill weed.
Vegetable Soup with Chicken
Servings: 12
Stock
6 organic chicken legs
4 quarts (16 cups) water
1 medium yellow onion, peeled and halved
2 large carrots, peeled and chopped
2 large celery stalks, chopped
3 cloves garlic, peeled
3-4 bay leaves
10 black peppercorns
A few sprigs fresh parsley
1 tablespoon chicken base or bouillon
2 teaspoons sea salt
Soup
4-5 celery stalks, sliced
A handful of fresh green beans, trimmed and sliced (approximately 2 cups)
4-5 carrots, peeled and sliced
2 tomatoes, diced
1 large, or 2 small potatoes, peeled and diced
Fresh parsley and/or dill, minced, for garnish
Salt and pepper, to taste
Directions:
In a large soup pot, place chicken legs and cover with cold water. Let soak for 30 minutes, changing water a couple of times.
Turn on the gas burner, and place the onion halves directly on the burner grate for 2-3 minutes, turning a couple of times to get a nice char.
Drain and add 4 quarts of fresh cold water to the pot with the chicken. Bring to a boil, and skim off any white foam/fat that rises to the top. Add the charred onion, carrots, celery and spices. Simmer over very low heat for 45 minutes, or until chicken is cooked. Strain the broth and set the chicken aside to cool, then remove the meat and discard the skin and bones. Discard all remaining stock components.
Add the celery and green beans to the stock, and simmer for 10 minutes. Add the carrots, tomatoes and potato, and continue cooking until tender, approximately 15-20 minutes. Add the chicken back to the pot, and taste to adjust seasonings. Garnish with parsley or dill.
Variations: Add cooked noodles or beans. To make a vegetarian version, omit chicken.
How useful was this post?
Click on a star to rate it!
Average rating / 5. Vote count:
No votes so far! Be the first to rate this post.