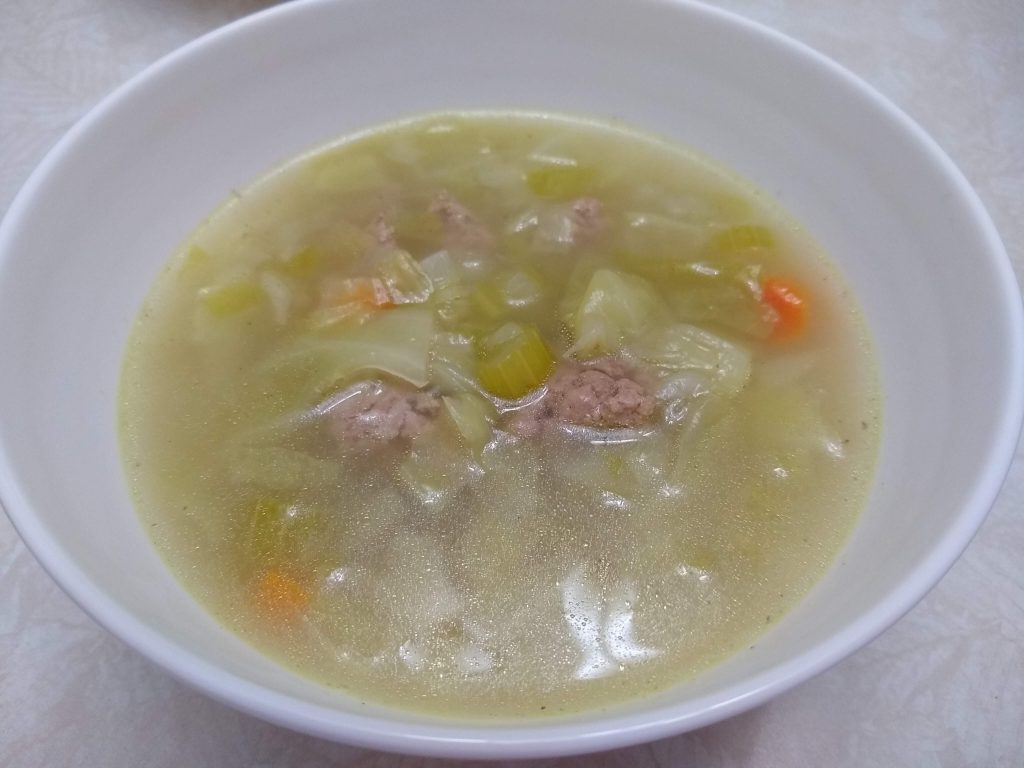 I'm so excited that I finally received a pressure cooker as a gift from my sister! I have been reading about all the benefits, and I know that so many people love using them, but I was resistant. I figured that I already had a slow cooker, and that a new gadget would just take up more space.
But I have to admit that I am sold! I am a big believer in efficiency, and having the ability to saute or brown meat all in one pot before pressure cooking really helps. Who wants to wash multiple pots and pans?
Plus, it's so great to have homemade soup ready in only half an hour! It's just as good as if you had simmered it all day.
Since it's officially Fall, I'm trying to make a different soup each week. It's a great way to eat more vegetables, plus it's a hearty and comforting meal on a cool day.
The most time consuming part is chopping a few vegetables. I used one onion, two carrots and two stalks of celery.
Then I turned on the saute function of the pot, added some oil, and started browning the ground turkey. I added a bit of salt and pepper to flavor the meat.
Once the meat was starting to brown, I added the onions, carrots and celery to soften.
Once the vegetables were cooking, I roughly chopped half of a large head of cabbage. It doesn't have to be perfect; it will cook down to a soft consistency.
Then I added the cabbage, some dried ground sage, and 8 cups of chicken broth. The sage really gives the soup a nice flavor, reminiscent of foods you might make on Thanksgiving. Feel free to add whatever seasonings you prefer, such as garlic, thyme or basil.
I turned off the saute function, sealed the lid, set the release valve to "sealing" and selected the Soup function. I changed the cook time to 7 minutes and hit Start.
When the machine beeped after the time was up, I let the pressure release naturally for 10 more minutes, then I used the handle of a wooden spoon to turn the valve to "venting." After all the steam was released, I opened the lid (be sure to wear an oven mitt!).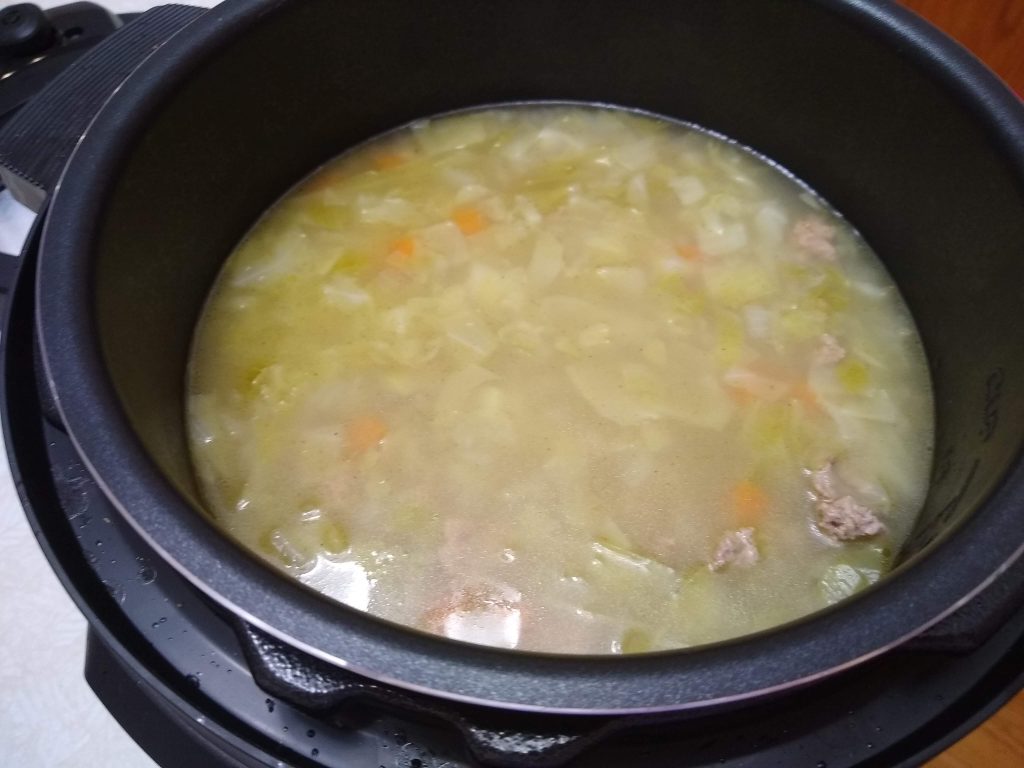 There you have it! Delicious homemade soup in only a few minutes.
Instant Pot Cabbage Soup with Ground Turkey
Servings: 8
1 tablespoon avocado oil (or olive oil)
1 pound ground turkey, preferably organic
1/2 teaspoon sea salt
1/4 teaspoon black pepper
1 medium yellow onion, peeled and diced
2 large carrots, peeled and diced
2 large celery stalks, diced
1/2 large head of green cabbage, chopped
1/2 teaspoon ground sage
2 quarts (8 cups) low sodium chicken broth
Directions:
Turn on the saute function of the Instant Pot. Add the oil and the ground turkey, along with the salt and pepper, and cook for a few minutes until slightly browned, breaking up the meat into small pieces.
Add the carrots, celery and onions and cook for a few more minutes until softened.
Add the cabbage, sage and chicken broth, and stir to combine.
Close the lid and lock into place, being sure that the valve is in the sealed position. Press the button for Soup, and adjust the cook time to 7 minutes, then press Start.
When the time is up, let the pressure release naturally for 10 minutes before venting the steam. If you have more time, feel free to let the pressure release completely, keeping the soup on Warm until ready to serve.
How useful was this post?
Click on a star to rate it!
Average rating / 5. Vote count:
No votes so far! Be the first to rate this post.