This recipe has a few steps to it, and takes a little longer to prepare, but it's worth it!
The main ingredients are tofu, a slightly sweet, tart and spicy sauce made from red curry paste and lime, and cauliflower.
I adapted this recipe from the book: "Myers & Chang at Home." The author, Joanne Chang, is well known for founding a chain of restaurants in Boston called Flour Bakery & Cafe. I sampled amazing food there when I visited Boston a few years ago. Later, she opened Myers & Chang with her husband.
I like to take tips and techniques from many different sources and adapt them for my recipes. For example, if a recipe uses sugar, I usually substitute stevia. If it includes pasta or rice, I substitute vegetables or salad. I may cut back on the amount of salt or oil used.
For this recipe, I used a technique to press and bake tofu to give it a chewy, crispy consistency. I have read about this in more than one place, but here I used advice from MinimalistBaker.com, from their recipe: Crispy Peanut Tofu and Cauliflower Rice Stir-Fry.
You start by opening a package of extra-firm tofu and placing it on a clean kitchen towel.
Then you wrap the towel around the tofu several times until it's completely covered.
Then you put a weight on top of it to press out all the water. This will give it a denser, chewier consistency when cooked. You can use any heavy items you have around the house. In this case, I used a cutting board, a trivet and a tea kettle filled with water.
After 15 minutes, slice the block of tofu in half lengthwise, then into small cubes. Place them on a parchment paper lined tray.
Bake the tofu at 400 degrees for 25 minutes. It comes out slightly crispy, dense and chewy.
The first time I had crispy tofu like this was in a restaurant, and I really enjoyed it. But most likely, that was deep fried. This version is much healthier since it's baked. It's so different from regular tofu that might be used in soups or lightly sauteed where it's still mushy and without flavor. This tofu holds up to any stir-fry and sauce that you choose to prepare.
While the tofu is baking, make the Red Curry Sauce. It's very simple…you just add a bit of oil, prepared red curry paste, coconut milk, sugar, curry powder, salt and lime. The recipe called for 2 tablespoons of brown sugar, but instead I used 1 tablespoon of Truvia Cane Sugar Blend, made with a blend of stevia and sugar. It's twice as sweet as sugar, so you use half as much, and you end up with only a very small amount of sugar in each serving.
You squeeze in the lime juice and then throw the rinds into the sauce to simmer for 10 minutes, giving it that extra tart flavor.
Once the sauce is ready, set it aside and chop some onion, cauliflower and cilantro.
The original recipe calls for blanching the cauliflower in boiling water for 2 minutes. But to save time and avoid washing another pot, I just microwaved it on high for 3 minutes.
Then, get a large skillet nice and hot, add some vegetable oil, and throw in the onions and cauliflower and a bit of salt. Cook for 6-8 minutes, stirring now and then, until the vegetables are slightly browned.
Then add half of the red curry sauce. The original recipe uses the full amount of sauce, as well as more salt and more oil, but I don't think it's necessary. (And the great thing is that you'll have enough sauce left over to make another recipe in the future.)
After simmering the cauliflower and onion for 5 minutes, add the crispy baked tofu.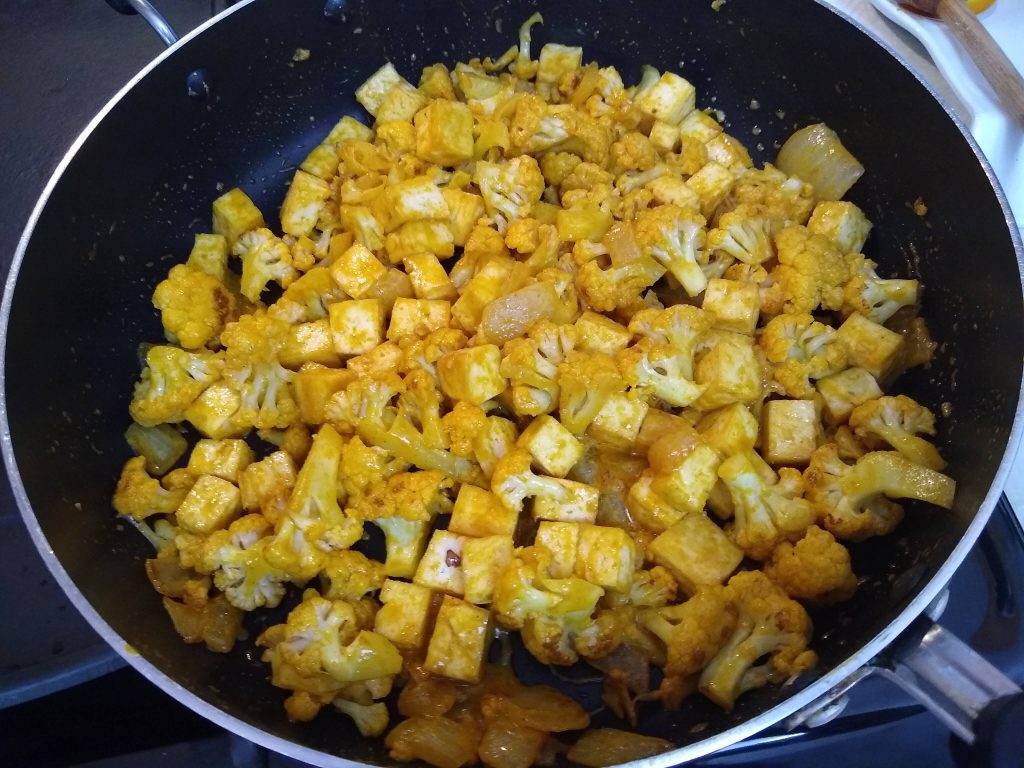 Simmer for another 2 minutes to allow the tofu to absorb the flavors. Then add the cilantro and serve.
It's such a delicious combination, slightly charred cauliflower, dense and chewy tofu, with a spicy, sweet, salty and tart sauce.
Red Curry Cauliflower with Crispy Tofu
Servings: 4
1 (16-ounce) block of extra-firm organic tofu
Red Curry Sauce
2 tablespoons avocado oil (or light olive oil)
1/4 cup red curry paste (such as Roland)
1/2 cup coconut milk (from a can)
1 tablespoon curry powder
1 tablespoon stevia baking blend (such as Truvia)
2 teaspoons sea salt
1 lime, quartered
Stir-Fry
2 tablespoons avocado oil
1 medium head cauliflower
1/2 cup chopped yellow onion
1/4 teaspoon sea salt
6 tablespoons Red Curry Sauce (half the recipe)
Crispy baked tofu
1/2 cup chopped cilantro
Directions:
Preheat the oven to 400 degrees.
Remove the tofu from the package and place in a clean kitchen towel. Fold the towel several times over to fit the shape of the tofu. Place a heavy cutting board, plus a cast iron skillet, books, or a tea kettle filled with water on top of the tofu to press out the water.
After 15 minutes, slice the block of tofu in half lengthwise, then cut into cubes, approximately 1 inch thick. Place them on a sheet pan covered with parchment paper and bake for 25 minutes, stirring halfway through. Remove from the oven and set aside.
While the tofu is baking, make the Red Curry Sauce. Heat 2 tablespoons oil along with the curry paste in a small saucepan. Stir and simmer for 2 minutes over low heat until fragrant. Add the coconut milk, curry powder, stevia and salt. Squeeze the juice from the lime and add the 4 lime rinds to the sauce. Simmer for 10 minutes, stirring frequently with a whisk. Turn off the heat and set aside.
Cut the cauliflower in fourths, then cut off each stem at the base to remove the leaves. Cut into small florets and place in a large bowl. Cover and microwave on High for 3 minutes.
Heat a large skillet over medium-high heat, add the oil, then toss in the chopped onion, cauliflower and salt. Stir-fry for 6-8 minutes until slightly charred. Add half the amount of Red Curry Sauce that you prepared, approximately 6 tablespoons. The remainder can be frozen and used another time. Lower the heat and simmer for 5 minutes. Add the crispy tofu cubes and simmer for another 2 minutes. Remove from the heat and sprinkle with chopped cilantro.
How useful was this post?
Click on a star to rate it!
Average rating / 5. Vote count:
No votes so far! Be the first to rate this post.