I've mentioned in a previous post that I love tacos, so I'm giving you another quick and easy recipe that can be served in lettuce leaves or as a salad for those watching their carbs, or over beans, rice or in corn or flour tortillas.
This is actually an adaptation of a recipe from Rachael Ray's Just in Time cookbook, "Tomatillo and Chicken Tostadas." In her recipe, she used zucchini instead of roasted red peppers, and served the chicken with cheese on crispy tortillas.
These are the simple ingredients that you need: chopped onion, jalapeno pepper, roasted red pepper, cilantro, and lime juice…
Shredded chicken from a prepared rotisserie chicken, a jar of Tomatillo salsa, and some cumin.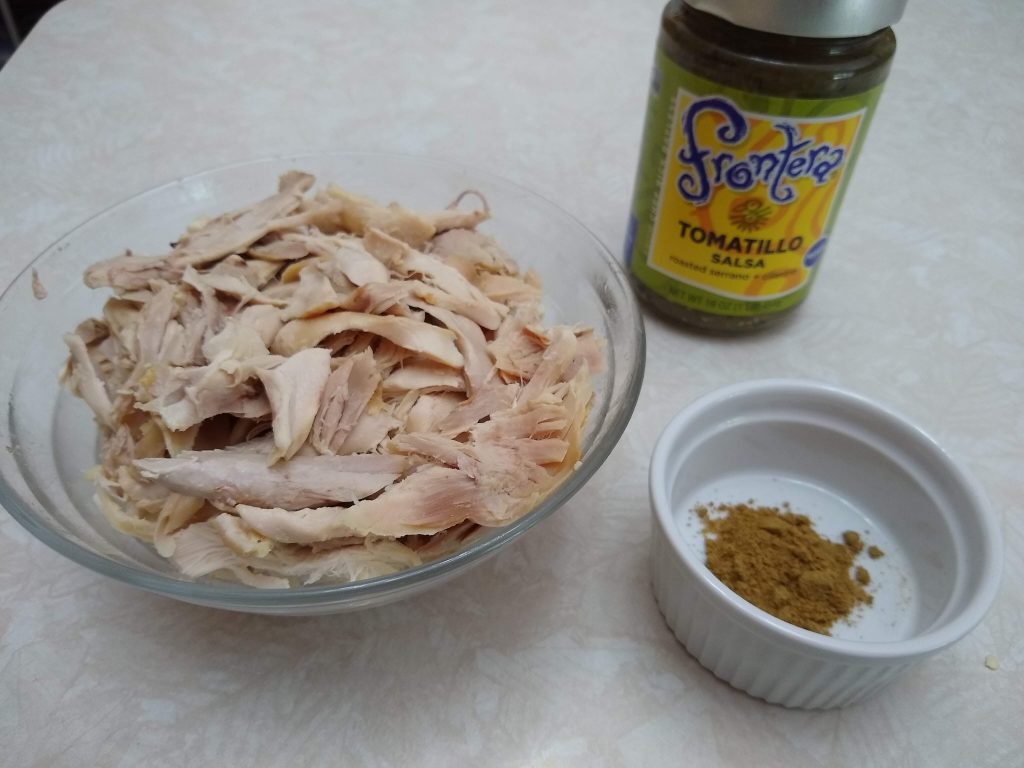 Start by sauteing the onions and jalapeno in oil until tender.
Then add the chicken, peppers, cilantro and cumin, and heat for about 5 minutes. Finally add the lime juice and serve. It couldn't be easier!
Chicken Tacos with Tomatillo Salsa
Servings:  4
2 tablespoons avocado oil (or olive oil)
1 large yellow onion, peeled and diced
1 jalapeno pepper, seeded and minced
Meat from a rotisserie chicken, diced, approximately 3 cups
1 roasted red pepper from a jar, diced
A handful of cilantro, finely chopped
1 teaspoon ground cumin
1 cup prepared tomatillo salsa
1 lime, juiced
Condiments: lettuce, guacamole, shredded pepper-jack cheese, sour cream or yogurt
Directions:
Heat a large skillet over medium high heat, add the oil, onions and jalapeno and cook for a few minutes until soft.
Add the chicken, roasted pepper, cilantro, cumin and salsa. Lower the heat and simmer for another 5 minutes until heated through. Add the lime juice and stir. Taste to adjust seasonings.
Serve in lettuce leaves (or taco shells) with the condiments of your choice.
How useful was this post?
Click on a star to rate it!
Average rating / 5. Vote count:
No votes so far! Be the first to rate this post.