I like to make a variety of soups in the winter. It's so comforting on a cold day, as well as nutritious and filling.
I usually make a big batch, then freeze the leftovers in individual portions to make it easy to heat up later.
This recipe is reminiscent of minestrone, but without the starchy pasta and beans. It's full of delicious, healthy vegetables, and a small amount of chicken to add a bit of protein. It's not a very heavy soup; you can add less broth or more tomatoes if you like it thicker. I serve it with a big green salad to round out the meal.
I start by sauteing vegetables in avocado oil in a large soup pot.
While the onions, carrots and celery cook, I slice the cabbage.
Once the vegetables start to soften and brown, I add all the other ingredients.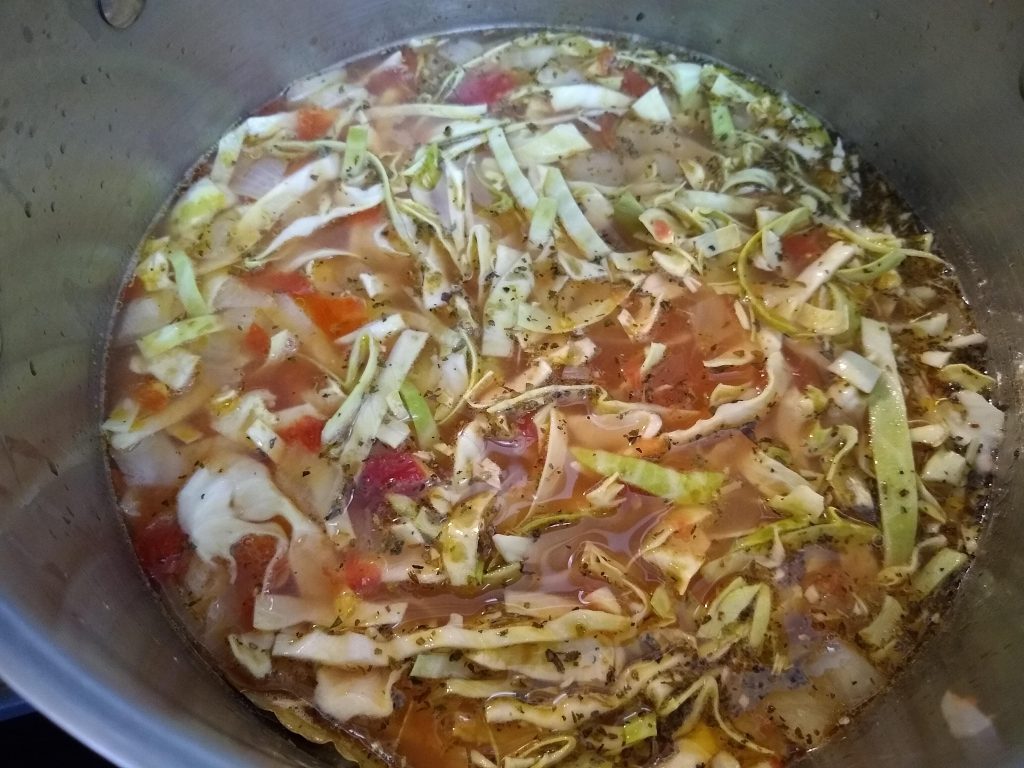 Now you just have to cover it and let it simmer for an hour. Remove the chicken and shred it before returning it to the pot. Then add a handful of chopped fresh basil. It really adds a nice bright flavor. Here is the finished soup, ready to enjoy!
Cabbage Soup with Chicken
Servings: 8
1/4 cup avocado oil
1 medium yellow onion, diced
2 large carrots, peeled and diced
2 large celery stalks, diced
4 cloves garlic, minced
1/2 head green cabbage, cored, cut in half and thinly sliced
2 organic boneless,skinless chicken thighs
1 (15-ounce) can diced tomatoes, no salt added
2 quarts low sodium chicken stock
1 bay leaf
1 teaspoon dried basil
1 teaspoon dried oregano
1 teaspoon sea salt
1/2 teaspoon black pepper
1/4 teaspoon dried thyme
10 leaves fresh basil, finely chopped
Directions:
In a large pot, saute onions, carrots and celery in oil over medium heat until starting to brown. Add the garlic and cabbage and cook for another minute. Add the chicken, tomatoes, stock, and all spices except fresh basil.
Bring to a boil, then lower heat to a simmer. Cook gently, partially covered, for 1 hour. Remove chicken and shred the meat, then return it to the pot. Add the basil. Taste to adjust seasonings.
Variations:  Add cooked macaroni, cooked beans, or freshly grated parmesan cheese.  If you prefer a more tomato-based soup, replace some of the chicken broth with a can of tomato puree.
How useful was this post?
Click on a star to rate it!
Average rating / 5. Vote count:
No votes so far! Be the first to rate this post.