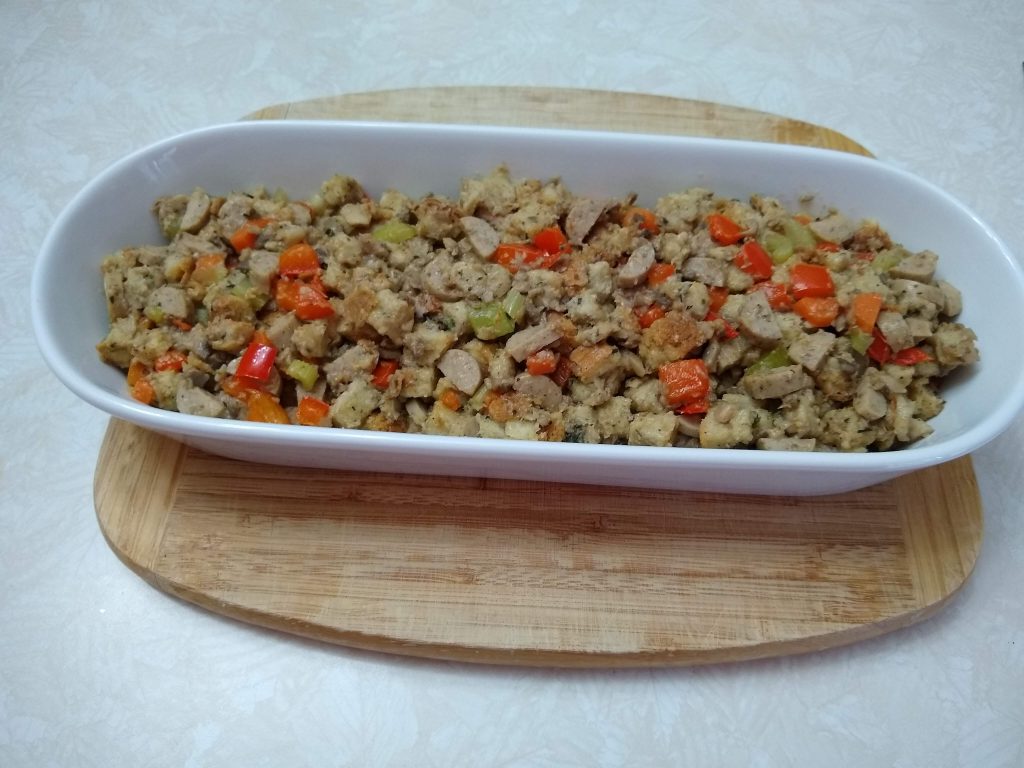 Whether you call it stuffing or dressing, cook it inside or outside the turkey, this is one of those "must-have" traditional dishes to serve on holidays like Thanksgiving or Christmas.
Even though I'm sharing recipes that are lower in starchy carbs on this blog, I thought that I could add one holiday "treat" that has been popular in my family over the years.
I'm a firm believer in following the 80/20 rule for healthy eating. If you eat healthy, nutritious, minimally processed and lower-carb foods 80% of the time, then you can have a few higher carb treats now and then. If you eat a bit of stuffing, or pie, or your mom's famous cookies, don't beat yourself up. Just enjoy it and try to limit the treats to the actual holiday, and maybe a day or two afterward. This way, you won't be overeating for an entire month!
Back to the stuffing…even people who don't normally care for it tend to like my recipe. It's not just a bunch of bread with a bit of sage and turkey flavoring, but it's loaded with juicy, delicious sausage and tons of fresh vegetables and herbs. The small dash of cayenne pepper really gives it a nice kick!
Many people add celery and onions to their stuffing, but this recipe also includes mushrooms, carrots and red peppers.
In my opinion, the breakfast sausage really enhances the flavor, and also gives a bit of a spicy kick. Years ago, I would just add any pork sausage that was on sale, but now I like to use healthier meats like chicken and turkey, preferable nitrate-free and organic.
For the convenience, I like to use the packaged stuffing mix, but feel free to use fresh bread cubes that you've dried in the oven.
To begin, melt butter in a large skillet, then add the diced vegetables.
You can see how colorful it looks! Continue cooking for several minutes until everything is soft.
Then add the sausage. In this case, the sausage is precooked, so you can immediately add the rest of the ingredients. But if you use raw ground turkey sausage, be sure to break it up into small pieces and cook thoroughly before proceeding.
Next, I like to add a bunch of herbs and spices to really liven it up. Even though the stuffing mix has herbs, I still add basil, oregano, rosemary, thyme, sage, black pepper, as well as a bit of cayenne pepper. Then add the stuffing mix or bread cubes and chicken broth.
Mix it thoroughly to see if it's moist enough, and add a bit more water or broth, if necessary. Taste to see if it needs a bit of salt.
Place the mixture in a large, oiled baking dish. Cover and bake at 350 degrees for about 30 minutes, until hot. If you want to brown the top slightly, remove the cover for the last 10 minutes.
I usually make the stuffing a day ahead and refrigerate. In that case, plan to bake it for about 40 minutes. I hope that you enjoy this recipe as much as my family does!
Holiday Stuffing
Servings: 12
1/4 cup organic butter
1 large onion, peeled and diced
8 ounces fresh mushrooms, minced
2-3 stalks celery, diced
2 carrots, diced
1 red bell pepper, seeded and diced
1/2 teaspoon dried basil
1/2 teaspoon dried oregano
1/2 teaspoon dried thyme
1/2 teaspoon dried rosemary
1/2 teaspoon dried sage
1/4 teaspoon black pepper
1/4 teaspoon salt, or to taste
1/8 – 1/4 teaspoon cayenne pepper, optional
1 pound nitrate-free chicken or turkey breakfast sausage, ground or diced
1 12-ounce package Pepperidge Farm Herb-Seasoned Stuffing Mix
2 cups low sodium chicken stock
Directions:
In a large skillet, heat the butter over medium heat. Add the onions, mushrooms, celery, carrots and red pepper, and saute for several minutes, until tender. Add the spices and breakfast sausage. (If the sausage is uncooked, continue heating until cooked through.)
Add the stuffing mix and chicken stock and stir until everything is combined, and the stuffing is moist. Add a bit more broth or water if it seems too dry.
Pour the stuffing into a large casserole dish, cover and bake in a preheated 350 degree oven for 30 minutes, removing cover for the last 10 minutes.
If making ahead, refrigerate stuffing, then bake covered for 40 minutes when ready to serve.
How useful was this post?
Click on a star to rate it!
Average rating / 5. Vote count:
No votes so far! Be the first to rate this post.