This recipe is so simple, but always gets rave reviews when I serve it at family gatherings. Even people who don't normally like cranberries enjoy this dish!
If you've only ever had cranberry sauce from a can, you're in for a treat! That stuff is full of sugar and not something you want to serve your guests. Making this recipe with fresh cranberries and fruit is quick and easy. Anyone can do it!
You only need a few ingredients: a bag of fresh cranberries, sweetener (I use stevia baking blend), an apple, an orange and a pear. Sometimes I add chopped toasted nuts, as well.
Start by boiling one cup of water in a medium saucepan along with the equivalent of one cup of sugar, which would be 1/2 cup of Truvia baking blend. (It's great because this amount only contains 1/4 cup of sugar for the entire recipe (12 servings). Once the water is boiling, add the fresh cranberries.
Reduce to a simmer and cook for 10 minutes.
While the cranberries are simmering, peel and dice your orange, pear and apple (I used Honeycrisp) and place in a medium bowl.
As the cranberries cook, you will hear popping sounds as they burst and the liquid starts to thicken. Here is the finished product.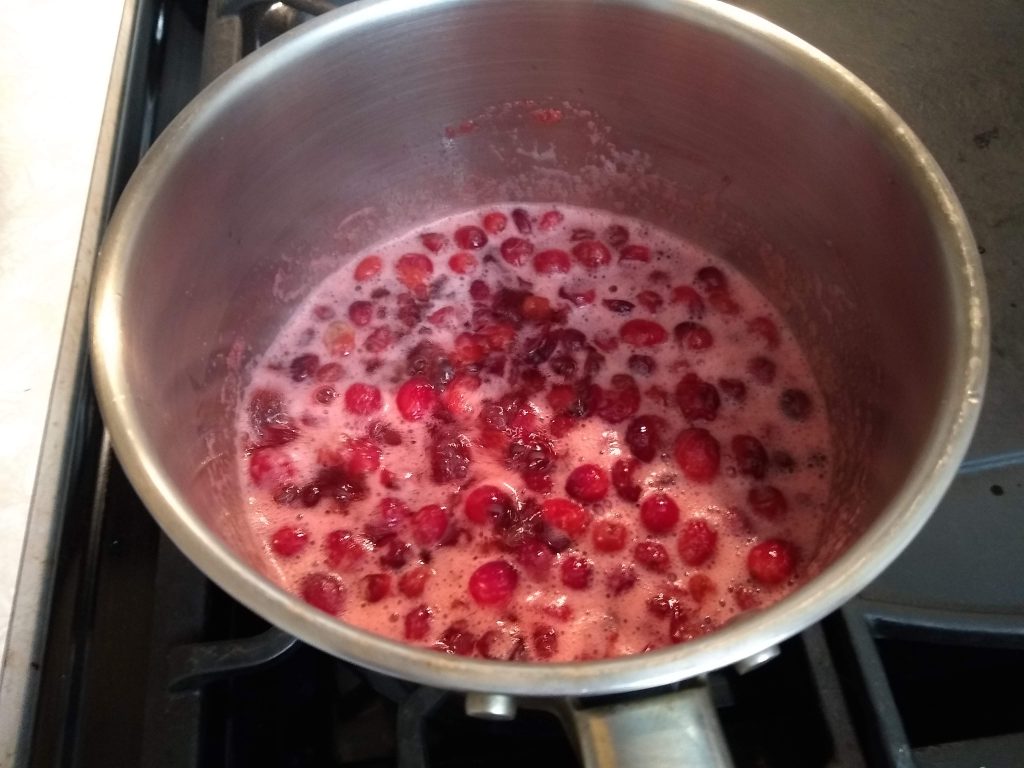 Pour the warm cranberries over the cold fruit and stir. Refrigerate until ready to serve. If desired, stir in some toasted pecans.
15-Minute Cranberry Sauce
Servings: 12
1 cup water
1/2 cup stevia baking blend (such as Truvia)
1 12-ounce bag fresh cranberries
1 orange, peeled and diced
1 apple, such as Honeycrisp, peeled and diced
1 pear, peeled and diced
1/2 cup chopped pecans, toasted, (optional)
Directions:
Place water and sweetener in a medium pot and bring to a boil. Add cranberries, lower heat and simmer for 10 minutes. Set aside to cool slightly.
Place the diced orange, apple and pear in a medium bowl. Pour the cranberries over the fruit and stir to combine. Refrigerate until ready to serve. Add pecans, if desired.